In business as in life, you're only as strong as your relationships. Which is why we're so proud of our relationships with HomeVestors franchisees over the last 15 years. Our relationship spans the global financial crisis of 2008, the global pandemic of 2020 and the rising interest rate environment of 2023. Through it all, we have been honored to help the franchisees at HomeVestors succeed in good times and bad.
Henry Ford said it best: "Coming together is a beginning; keeping together is progress; working together is success."
To tell our story of success with HomeVestors, we gathered Residential Capital Partners' leadership and a couple of HomeVestors' top performing franchisees for an interview that's been a long time coming.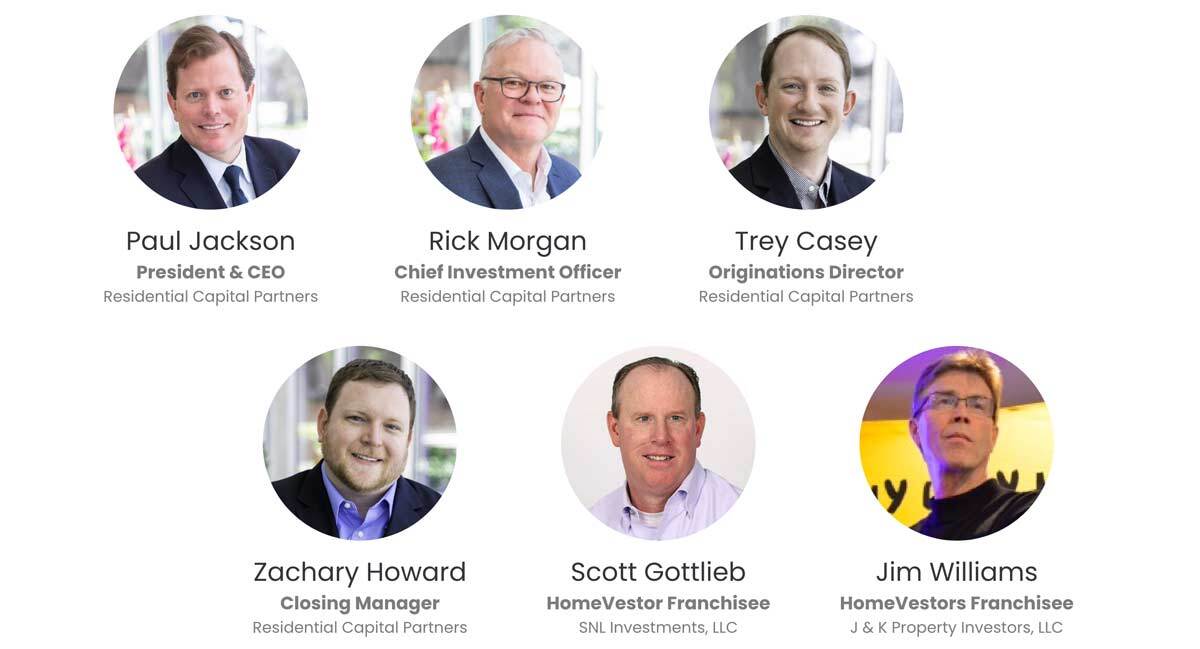 How did HomeVestors and Residential Capital Partners first join forces?
Paul: Everyone in finance has a story from 2008. For Residential Capital Partners, it was the beginning of our relationship with HomeVestors. The global financial crisis created a void of credit in the single-family rehab and rental marketplace and HomeVestors needed a balance sheet lender to supply financing for its franchisees. Wall Street shut down and traditional banks sat on their hands, but we decided to lean in and provide capital to the HomeVestor franchisee community because we were so impressed with their training, work ethic and values. Since that time, we've closed 3,153 loans for HomeVestors franchisees.

Residential Capital Partners could have invested in many other opportunities in the market at the time. Why HomeVestors?
Rick: My most vivid memory of 2009 was at the HomeVestors Annual Convention in San Francisco. Despite the debt crisis, I remember the spirit of the few hearty franchisees in that room. How committed they were to the bedrock practice of sitting down with a family, hearing their story, and figuring out how to make an ugly house a good quality home. In that moment, we decided that loaning money to the HomeVestors community was an incredible opportunity and we committed ourselves to doing what we do best – designing financial tools—to empower this network of people.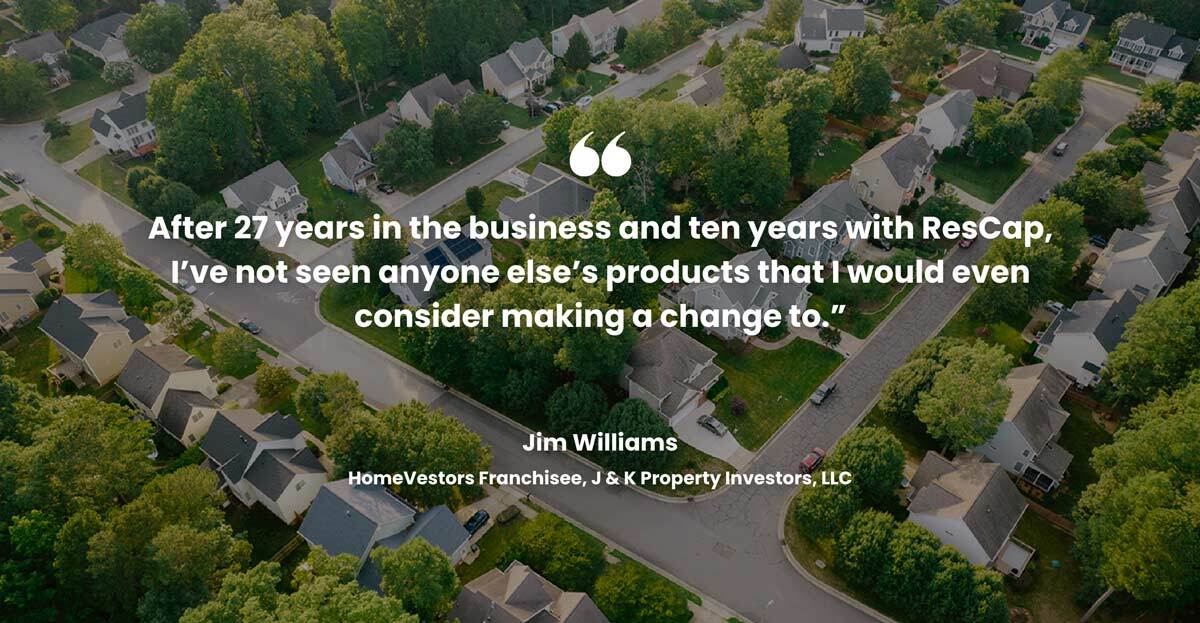 How did your relationship with franchisees fair through COVID-19?
Rick: The whole world took a collective time out during the early stages of the pandemic. Financial markets were incredibly tense, the threat of a repeat of 2007 and 2008 was upon us. Capital dried up. Lending companies across the country disappeared, walked away from contracts.
Zachary: Many of the borrowers who came to us had loan documents pulled away from them at the closing table by other lenders due to the COVID-19 crisis.
Paul: It was a scary time, very intense. Banks were sitting on the sidelines. Most investors were on the sidelines. Everybody was concerned about what the future held. To put money on the table in any sort of investment is daunting, but to do so in the midst of a global pandemic that was creating so much economic uncertainty was incredibly daunting.
Rick: We had our trepidations, but our relationship with HomeVestor franchisees and our sense of honor and commitment to that relationship was greater than our fears. We made a decision early on in the pandemic: while there were plenty of unknowns to worry about, there was a network of 1,000+ franchisees that we knew had been outperforming the market with us for more than a decade. And that network had realized success buying and selling one house at a time for over two decades. If we were going to have a problem in that environment, we'd take it one or two houses at a time with a world class franchise base that was our best and most loyal customer.
We didn't change our terms. Or our rates. We told the franchisee base we'd figure this out together. And through the Covid-19 crisis, we funded 1,103 deals totaling $185,297,084 for HomeVestor franchisees.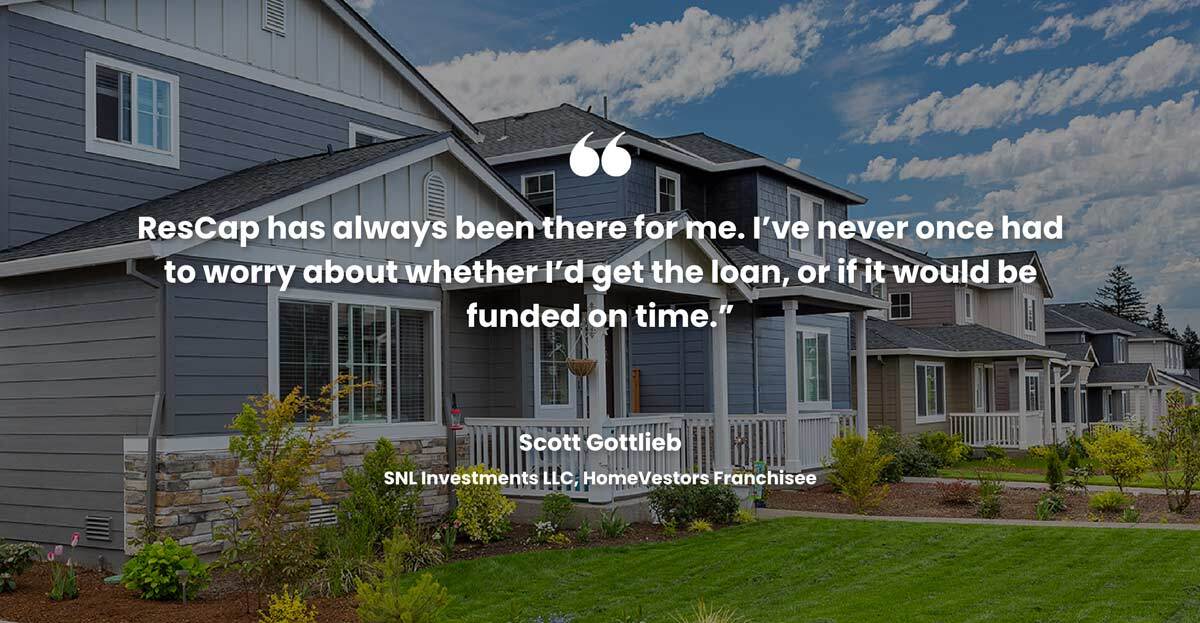 Paul: This was the second time in twelve years we had what I'd call a "gut check" moment. On both of those occasions, HomeVestors and Residential Capital Partners decided we were strong enough together not only to survive the storm, but to be successful in the midst of it. As it turned out, the pandemic was a scary time, but the economy and housing market came out of it fairly quickly and before you knew it, we were back to normal.
Zachary: ResCap was named as HomeVestors Vender of the Year in 2020, and I'm very proud of that award because it speaks to who we are as a company. Year in and year out, we are here for our borrowers – we show up. Our business plan is strong enough to continue no matter the market conditions.
How does ResCap make deals easier for HomeVestors franchisees?
Trey: ResCap's lending platform was initially created and designed for HomeVestors franchisees, so it's engrained with aspects of the model HomeVestors teaches its franchisees. This creates a seamless flow and creates confidence for both parties when closing and funding on rehab loans.
Zachary: The closing team does several things to try to make the process easy. The first is speed of closing. Once the file has been approved by underwriting, my team can move as quickly as the title company can provide documents. We quote a 48 hour turn time, but we often beat that. We are also able to locate, bind and manage insurance for most files. And any borrower that has questions regarding their closing statements can call me directly to discuss the details.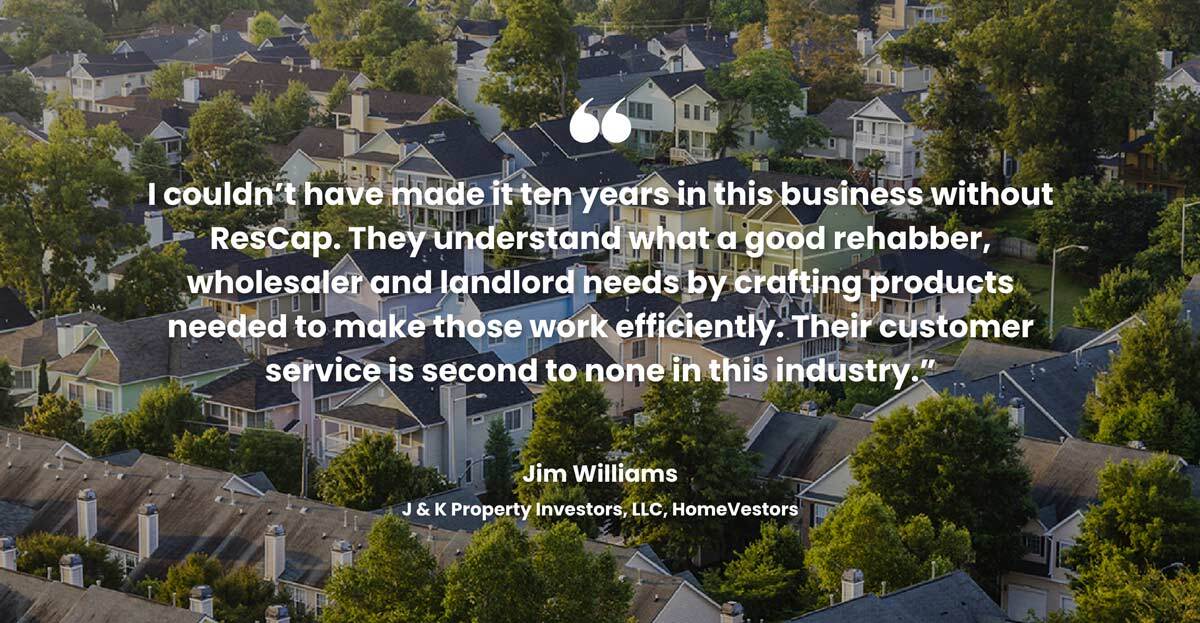 Rick: And we speak HomeVestors language. Our loan application is virtually identical to HomeVestors software, ValueCheck. Applications are free for HomeVestors. And our appraisal systems are designed to mimic HomeVestors' in the way we analyze deals, neighborhoods, etc. So when they bring documentation to us, it flies through our shop for approval.
Zachary: Right. If we say we will do something, we do it. I tell my team to never make a promise we cannot keep. If we say we can close by a certain date or time, then we will make that happen. If we cannot do something we tell borrowers as soon as we know.
What is the future of ResCap's relationship with HomeVestors?
Paul: In 1996, when HomeVestors began, flipping houses was considered to be something a mom-and-pop investor would do in their spare time or on the weekend, and it certainly wasn't something that attracted institutional capital. Fast forward to today, and the single-family rehab and rental industry is the hottest investment topic on Wall Street—outperforming multi-family asset classes, commercial asset classes, and retail asset classes. Wall Street has recognized the single-family home as one of the best investments you can make and we think that will bode well for our business relationship with Homevestor franchisees and for their single-family real estate investment business.
Rick: To add to that—today, there's capital and technology and data like never before. But there's one aspect of this business that will never change: the need for an attitude of service, which HomeVestors has had from day one. That's the foundation of every successful business. And because of that, we are confident that the relationship between HomeVestor franchisees and ResCap will be every bit as bright and vibrant in the future as it has been in the past.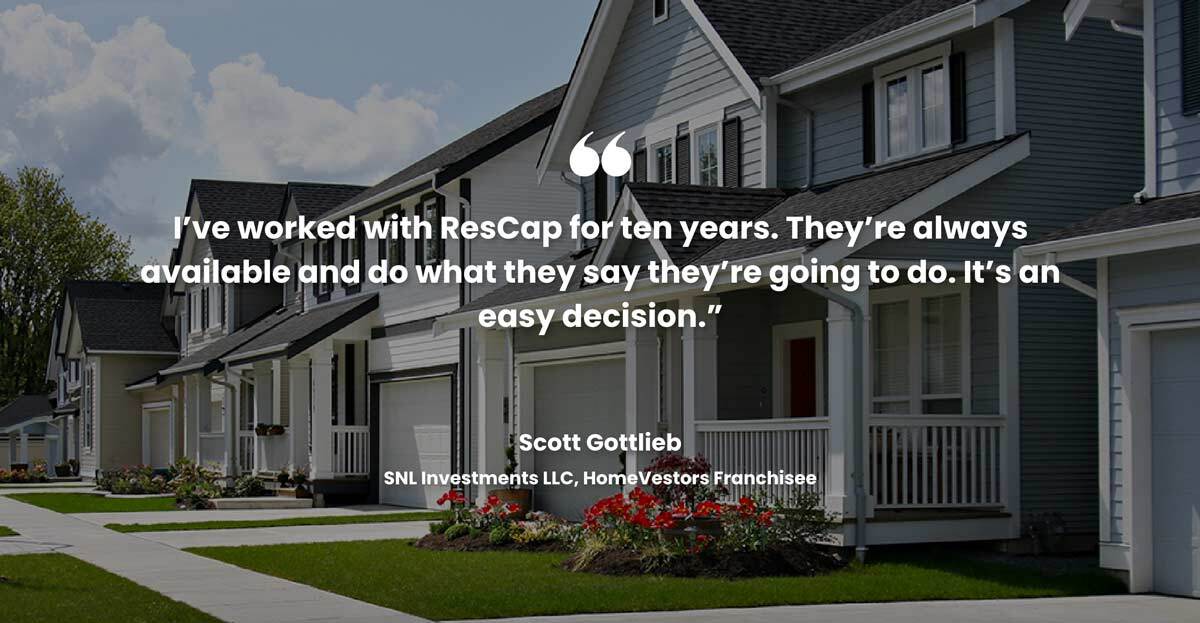 Single Family Real Estate investing wasn't always En Vogue.
Thanks in part to HomeVestors and Residential Capital Partners, it's now a highly sought after investment. If you're a franchisee looking for consistent success, it's important to have a lender you can trust that speaks your language and understands your needs as a business owner.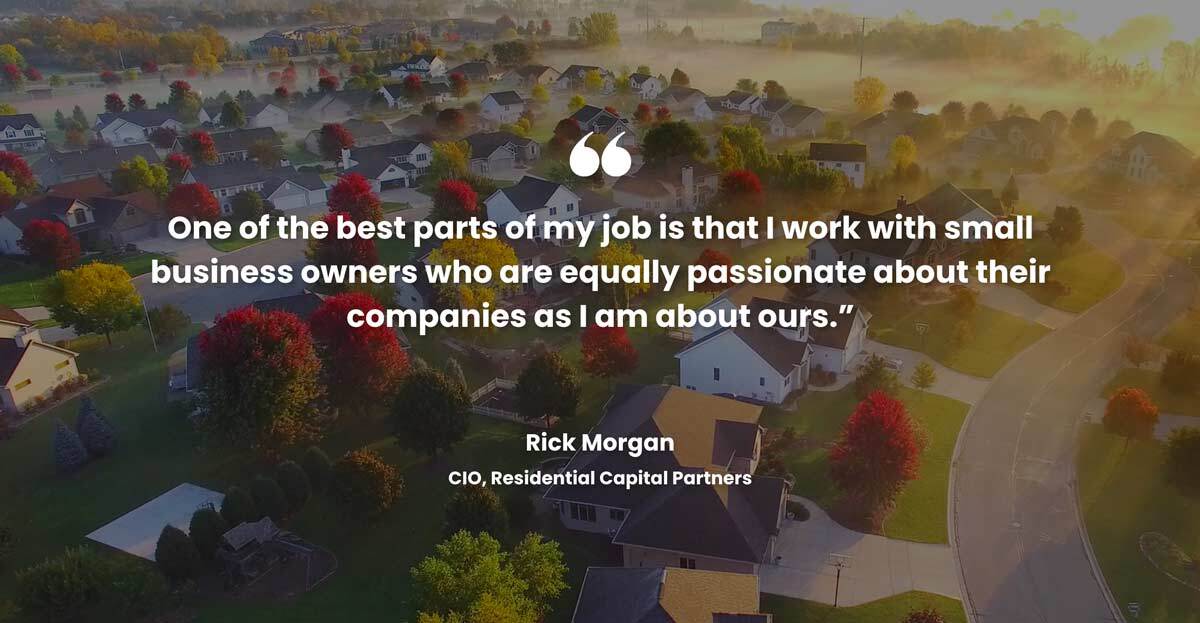 Fast Forward to Today.
The single-family rehab and rental industry is "one of" the hottest investment topics on Wall Street—outperforming multi-family asset classes, commercial asset classes, and retail asset classes.'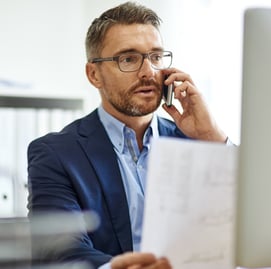 See why we're the most trusted lender for HomeVestors' franchisees