The pandemic has changed our lives and the economy in major ways. For many Americans, it has meant making the switch from working at the office to working from home. And it looks like working from home will continue permanently for many workers, even though some offices have reopened. With the flexibility of working from home, many Americans have opted to change where they call home. You may even be reading this from the comfort of your own home or local coffee shop!

With this new flexibility, some Americans have opted for a new view from their home office window. They are heading for both rural and suburban areas. We've witnessed younger households swap city life for the suburbs, while elderly Americans have hurried the decision to relocate to their retirement destination. Others still, have found refuge in country living. So, what's left to buy, rent, fix, or flip?
To help you on your journey from rehab to rental, download the free Investment Rental Property Neighborhood Checklist.
How Can Single-Family Rental Property Investors Thrive in the Current Market?
All this has meant a hefty surge in demand for suburban single-family homes, retirement locales, vacation homes and investment properties. And while prices of homes in those markets have skyrocketed, both seasoned and first-time rental property and/or fix-and-flip home investors would be wise not to overlook other options with big potential. The flip side of this current real estate market is that with home prices spiking, little inventory, and high construction costs, an urban buy-to-rent property might be your next best investment opportunity.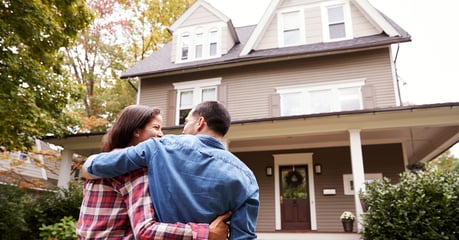 Even as the talk is still churning about the swelling suburbs, it's time to take a second look at urban areas. Urban areas have shown a growing increase in both revitalization and investment. Recent real estate market reports also indicate that this urban renewal and resurgence began in the spring and should swell well into summer.

What conditions have created this opportunity for the buy-to-rent investment? There are two factors at play: First, an increasing number of young and would-be first-time home buyers are being priced out of the suburban markets where they find themselves looking for a home. Second, many of the most urban areas have been negatively impacted by this suburban "flight to quality." These two factors could create some urban buying opportunities for the single-family rental investor as the undertow brings the urban dweller back to the city in search of a rental home.

The opportunity for buy-to-rent is here. And whether you are new or a seasoned investor, you won't want to go into new territory without the right partner. That's where Residential Capital Partners comes in. We can help you decide if a buy-to-rent investment is right for you.
If you're tired of sky-high prices sparked by suburban surge and the blast of big buyers in vacation destinations, look to urban markets. But don't miss your window to make a buy-to-rent investment. The urban market needs buy-to-rent investors to help meet the demand of those individuals and families on the hunt to lease renovated rental properties. This window won't last forever.
The name of the game is still location, location, location. You'll want to familiarize yourself with the area where you'd like to invest. Be sure to always get a home inspection to insure you're getting a fair deal on your property. And, secure a lender that won't bait and switch you with terms too good to be true. You'll want to invest with a lender you can trust: one that wants you to turn a profit and invests in you to meet your goals.
In other words, move smart and strategically -not recklessly.
When it comes to rental property investing, it's crucial to partner with a lender who is both ready and reliable. And in this real estate market in particular, cash is king. It favors investors who have the financing in hand and ready for renovation to make the sale. Residential Capital Partners is a hard-money lender, with no hidden fees, total transparency, and a reputation to back it up. Some lenders are hard to get ahold of after an initial conversation. Not us. We're here to help you succeed. We're here to answer all your questions because we're the experts in the industry. Discover what you need to know to get your next investment going.
To help you on your journey from rehab to rental, download the free Investment Rental Property Neighborhood Checklist.