Demand for affordable single-family homes is (still) astronomical! If you're a seasoned rehab professional, you know that between sky-high prices and bidding wars, getting your hands on an affordable rehab has been challenging. The good news is that once you get a property under contract, your margins for profit are strong – short term and long term. But, given market conditions, now may be the right time to go long on single-family rental properties to build wealth over time. With interest rates rising, the cost of a mortgage may force prospective buyers to keep renting. And given the stark reality of inflationary pressures in this market, investors can use single-family real estate investment to hedge inflation while building wealth over time.

Here are a few other reasons why single-family rental investments might be a great idea for you:
Reliable

income
While investors sometimes shy away from single-family rental real estate due to the routine maintenance and upkeep required, the predictable income and ability to adjust rent over time is well worth the hassle. Building wealth requires consistency. And consistent rent from your tenants provides the investor with a barometer for adjusting rent upwards during a period of high interest rates and inflation. With capital costs increasing, mortgage costs increasing and the demand for rental properties increasing, the savvy single-family landlord can adjust rents slightly higher to keep up with inflation and keep returns consistent. This ability to hedge against inflationary pressures while maintaining reliable income is the juice that makes the single-family rental investment worth its squeeze.
Reliable

tenants
Finding reliable tenants is also an important way to insure reliable income for your single-family rental portfolio. And while no one can bat one-thousand, you can implement the following requirements to insure you are building wealth with a reliable tenant base:
Ask for character references
Verify income and job status
Run background reports and credit checks
Require a security deposit
Establish good communication once you've selected a tenant
Property value

appreciation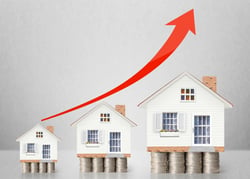 Over the long-term, home prices in the U.S. have increased in value. The Federal Reserve recently reported the median sales price of homes sold in the U.S. has increased more than 64% over the last decade. If you're willing to maintain the property and hold onto it for the long term, the odds are in your favor that your asset will appreciate in value whether you decide to sell for a larger profit later or continue to hold an appreciating asset.
Tax

benefits
The tax benefits associated with owning single-family rental property also help build wealth for the investor. Aside from the traditional tax benefits associate with deducting depreciation, repairs and interest expense from the real estate investors' tax returns, you can also deduct property management fees, leasing fees, travel expenses and continuing education. As your rental portfolio grows, your tax benefits grow with it, allowing you to accelerate the creation of wealth with each new acquisition.